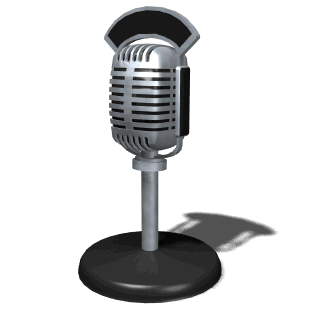 Audio Broadcasting
OK. So how do I broadcast? As a customer, you'll be given IP addresses to stream your audio from your computers to the broadcast server, which is housed in a safe and secure facility. It's simple, proven Internet Radio technology, with one low cost!* Put the IP addresses behind your website's event links, and everyone sees your broadcast schedule -- along with YOUR advertisements and promotions!
When you're ready to broadcast, plug in your headset, connect to the Internet, and launch the software to broadcast from your computer; then your listeners click the link to the broadcast on your website and -- bingo! Start blabbing! Your fans and families listen for free! You've also got realtime listener statistics through the Internet. And don't forget to pre-record some advertiser spots for playback during your live event -- it's easy! We can show you how to do it yourself, or we can professionally write and record the spots for you! And if you need help selecting any other
optional equipment, we can help you there, too!
Technical support is just a phone call away, but you're not likely to need it!
The setup is so simple that almost anyone can manage it! Call us!
*Typical plan cost is approximately $150/month on a 2-year commitment. Certain limitations and restrictions apply. Other features and capabilities cost extra. Call for more information.